Honolulu Records Collection (HNLDOC) is a multi-faceted web service created for the Office of the City Clerk, City and County of Honolulu. City Council members and staff, Executive Department members, Office of the City Clerk staff, and the general public can access this service to manage the flow of public testimony, executive branch submissions, and legislative documents for the City Council.
Patchwork of sites
In recent years, the patchwork nature of the City and County of Honolulu's user interfaces made it challenging for the public to engage with the county's legislative process. Searching for meetings, finding information on bills and resolutions, and providing public testimony required users to be deeply familiar with multiple sites, and there were no notifications to inform constituents when new measures, documents, and meetings were announced. Within this framework, users with less experience found it difficult to search for what they needed quickly and easily.
Action taken
To facilitate a positive constituent experience and improve efficiency for all users, the Office of the City Clerk, City and County of Honolulu partnered with Tyler Hawaii to launch a brand-new website, HNLDOC. The new site features an extremely well-designed user interface that makes it easy for inexperienced and expert users alike to find what they need. Users can now find agenda items using a specialized search, which simplifies the process for submitting testimony. In partnership with Tyler Hawaii, the City and County of Honolulu introduced robust user notification options to expand public awareness and launched a live help chat to respond to user questions.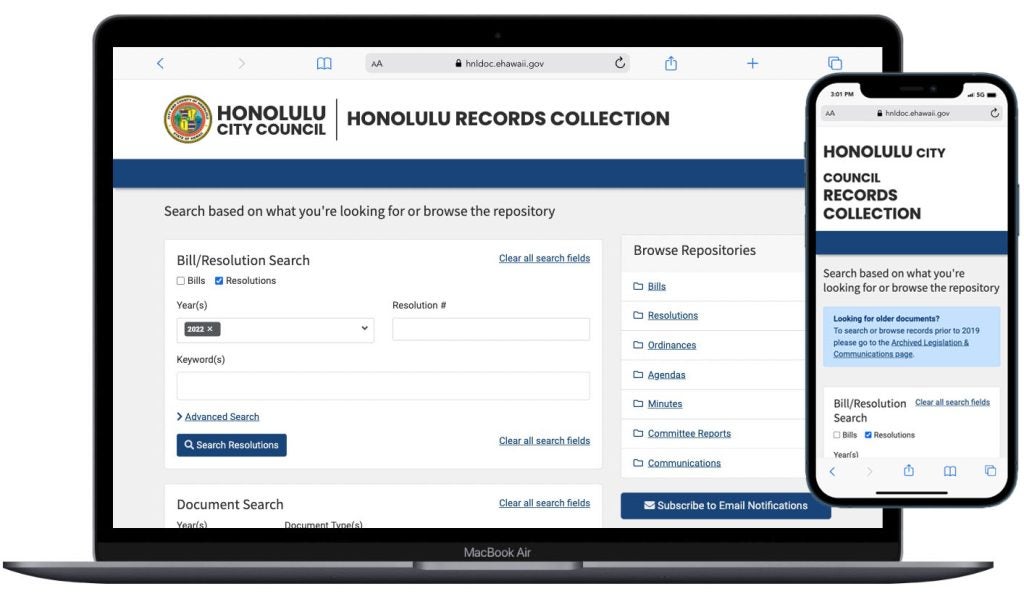 Improved public participation
Since moving to the new HNLDOC integrated platform, public users can easily search for information, provide testimony, and subscribe to notifications about items of interest with minimal guidance and almost no interaction with the Office of the City Clerk's Council Information Section. HNLDOC's testimony dashboard enables City Council members and staff to monitor and review public testimony submissions in real time. A document upload feature, in turn, provides a simple and efficient way for Council members/staff and Executive Department staff to submit documents to the Office of the City Clerk in an efficient paperless workflow.
This service has transformed what was once a patchwork of user interfaces and difficult-to-access document storage sites into a single, streamlined platform that is responsive, reliable, and easy to use for all parties, and that has dramatically improved the efficiency of the Office of the City Clerk staff. All of the features have improved the public's access to the legislative process.
Award winning
The website has been the recipient of three awards since launch.