Hawaii Business Express Wins Outstanding Website Award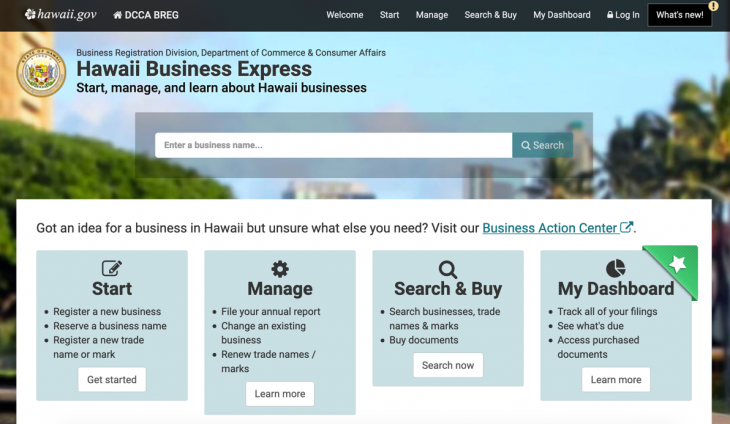 Hawaii Business Express (HBE), has been nationally recognized with a Web Marketing Association award for Outstanding Website in the government category. The award is an extraordinary honor and HBE received top scores in the ease of use, copy-writing, content, and interactivity criteria.
Hawaii Business Express was created at the request of the State of Hawaii Department of Commerce and Consumer Affairs (DCCA), Business Registration Division (BREG) and in partnership with Hawaii Information Consortium, LLC, the official Internet portal manager of eHawaii.gov.
In April, BREG's suite of business services was entirely redesigned to better serve Hawaii's business community by incorporating feedback from both new and power users. The most helpful feature is a new dashboard that makes it easy to manage all business activity in a single location and sends reminders of items that are overdue or coming due soon. It also includes 24/7 access to receipts and purchased documents, the ability to track the status of any filing, and improved sorting and filtering to more quickly find a business.
Included in the redesign were the following services:
Annual report submission
Business search and document purchases
Registration of and changes to businesses, trade names and marks
Notifications and reminders
About BREG
BREG maintains the business registry for all corporations, limited liability companies, general partnerships, limited partnerships, limited liability partnerships and limited liability limited partnerships conducting business activities in the State. In addition, the registry contains trade names, trademarks, service marks and publicity name rights.
About HIC
This site was launched as part of the eHawaii.gov state portal program. Pursuant to chapter 27G, Hawaii Revised Statutes, the portal program is overseen by the Access Hawaii Committee, which collaborates with provider Hawaii Information Consortium (HIC) along with state and county agencies to continually identify new online services to be added to the portal. For more information, visit hic.ehawaii.gov.
About NIC
NIC Inc. (Nasdaq: EGOV) launched the digital government industry in 1992, and continues to lead it, providing a secure payment engine and thousands of digital government solutions across a network of more than 6,000 federal, state, and local government agencies. In addition, NIC is the nation's leading provider of outdoor recreation solutions, with 1 out of 6 hunting and fishing licenses in the United States sold using an NIC service. The company launched the nation's first personal assistant for government and comprehensive mobile platform, Gov2Go®, as well as the innovative, data-driven prescription drug monitoring platform, RxGov®. More information is available at www.egov.com.