Join us for a Making Strides for Breast Cancer 2021 Virtual 5k Walk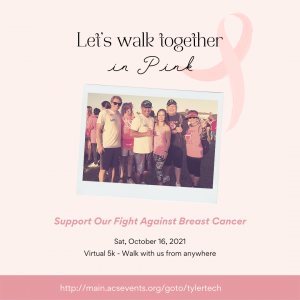 Did you know that breast cancer is the most commonly diagnosed cancer among American women. In 2021, it's estimated that about 30% of newly diagnosed cancers in women will be breast cancers.
Breast cancer has also become the most common cancer globally, accounting for 12% of all new annual cancer cases worldwide, according to the World Health Organization.
Too many of our own team members have had their lives permanently altered by Breast Cancer and it's why we are so passionate about working towards a cure.
On Saturday October 16th, we'll be participating in a virtual 5k walk as our way of raising funds to support the American Cancer Society Making Strides Against Breast Cancer event. This is the 6th year we'll be walking towards a cure.
---
This year, there's also an option to purchase a Luminaria for the"Strides Shines at Night" event. For $10, you can dedicate a luminaria (tribute) to a loved one lost, someone currently battling, or anyone who has overcome cancer.
If you'd like to contribute financially, you may donate below or simply join us for the walk.