Our January volunteering will consist of two events:
Athletic Shoe Drive
Clean out your closet, take a peek under the bed and ask your friends and family – chances are, you'll find a few pairs of kicks lying around that have seen better days.
Rules:
Remove excess mud/dirt as best you can;
Shoes must be dry (not damp or wet);
Must be athletic shoes, no sandals, flip flops, dress shoes or cleats;
Shoes must not have metal parts.
Rosie will be dropping them off at the converse outlets for recycling with Nike Reuse a Shoe. Shoes are recycled to created playgrounds, tracks and various running surfaces all over the world. And it's a great way to keep all those shoes out of the landfill! The shoe drive will run through the end of February. Drop them off in the box in the green room.
Epilepsy Foundation "Family" Race Team
Lynn will be organizing a team to participate in Sharon's Run/Ride/Walk for Epilepsy 2012. Various distances and events for cycling, walking and running are available to choose from. All proceeds collected locally from the event will go to the Epilepsy Foundation of Hawaii, a non-profit organization dedicated to providing services to individuals with seizure disorders. It is estimated that over 15,000 Hawaii residents suffer from epilepsy and over 75,000 people are touched by it.
Event date: 1/29/12
Please contact her if you'd like to participate at lynn@ehawaii.gov
Visit the website for more information
Bonus Event!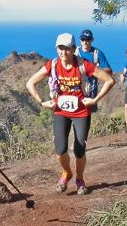 With January holding the biggest event of this volunteer program coordinators life thus far, anyone who is interested in coming out to say hello while I'm on the course, please do! I'd love any and all the support I can get. The race spans 36 hours so there are plenty of opportunities Saturday and Sunday day or night (all hours). If you really want to see some incredible displays of human emotions, check out the finish between 4-6 pm on Sunday. Or you can make a day of it and make the short trek up to Manoa Falls for extra fun! All trails are open to the public during the entire race.
Details:
Start date: Jan 14th, 6am
End date: Jan 15th, 6pm
Event website: www.hurt100.com
The race is famous for being one of the hardest ultra marathons in the world. With almost 50,000 feet of elevation gain and loss, and a finishing rate of 20-30%, it's the challenge of a lifetime.