Hawaii Information Consortium Website Wins Silver Davey Award
The winners of the 2019 Davey Awards have been announced and Hawaii Information Consortium's (HIC) website, nichawaii.egov.com, is the winner of a Silver Award for its innovative design. This is the third award the site has received since its launch in February 2019.
"With nearly 3,000 entries from around the world, the Academy of Interactive and Visual Arts is proud to once again showcase the outstanding work that comes from small shops across the globe. The Davey Awards recognize those who utilize flawless execution, groundbreaking technology and a fresh approach to the thought process to produce top-tier content," said Derek Howard, Executive Director of the AIVA.
Hawaii Information Consortium, a subsidiary of NIC Inc., is the premier provider of government websites, digital government services and secure payment processing solutions for the state of Hawaii. This site redesign was completed in tandem with a company rebrand.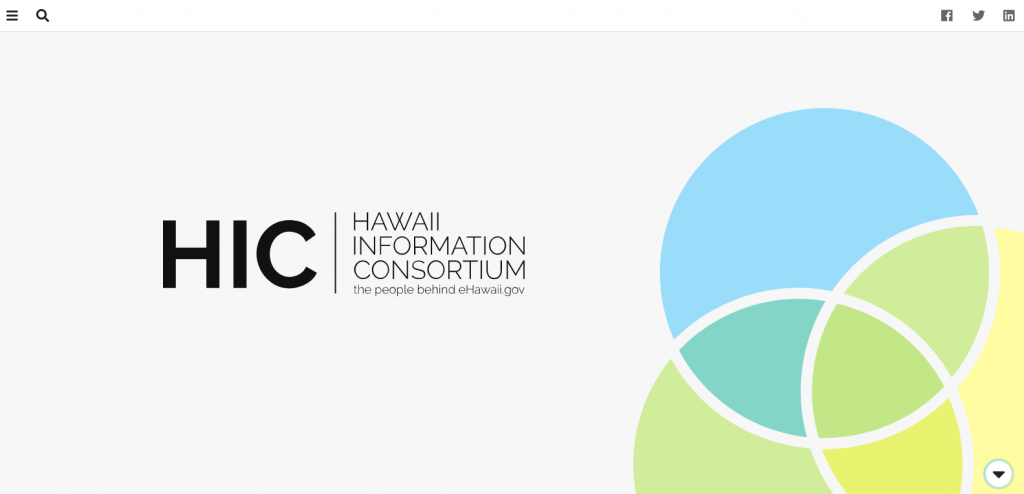 Stories weaved throughout the site show that HIC understands and knows how to implement the latest technology and that it works with government partners every step of the way to build a lasting partnership. A portfolio highlights HIC's best work and the capabilities section defines technical capabilities in a way meaningful to government agencies.
The site also works across all platforms with over 50% of visitors coming from a mobile device or tablet. The website displays beautifully no matter which device one chooses to visit from.
About HIC
At HIC, we're experts at helping agencies solve their biggest problems using technology. Over the past 20 years, HIC has built more than 160 digital government services on behalf of their state, local and federal partners through a public-private partnership with the State. HIC is a Hawaii corporation and wholly owned subsidiary of eGovernment firm NIC. For more information, visit nichawaii.egov.com.
About NIC
NIC Inc. (Nasdaq: EGOV) launched the digital government industry in 1992, and continues to lead it, providing a secure payment engine and thousands of digital government solutions across a network of more than 6,000 federal, state, and local government agencies. In addition, NIC is a leading provider of outdoor recreation solutions, with 1 out of 6 hunting and fishing licenses in the United States sold using an NIC service. The Company created the nation's first personal assistant for government and comprehensive mobile platform, Gov2Go®, as well as the innovative, data-driven prescription drug monitoring platform, RxGov®. More information is available at www.egov.com.